Norman High School
Class Of 1966
SAVE THE DATE!
FRIDAY-SATURDAY, JUNE 29-30, 2018
OUR 70TH BIRTHDAY PARTY IN
NORMAN!
It's time to play "surely the calendar is wrong!"
Our next Norman High School Class of '66 reunion is June 29-30, 2018, and the organizing committee is in high gear for our Age 70 gala!
Yes, you read it correctly, about 99.9% of our graduating class will reach age seven-oooooh on or before these dates, so mark your calendars and plan on being a part of this once-in-a-lifetime classmate gathering. As always, Norman High School grads from any class year are welcome and encouraged to join us.
The initial planning meeting was held on Saturday June 9, 2017. The group decided that we'll be getting things started with a casual get-together at a local venue on Friday evening, June 29th. On Saturday, June 30th, a semi-casual gathering will be held, and it may or may not be at the same location.
The committee members will be exploring various venues around town to learn what they can offer along with pricing. The committee will meet again on August 6th to discuss their findings and decide on the location(s) along with additional details and pricing.
As the Class of '66 Age 70 Reunion progresses, additional information will follow in Email Blasts, announcements in the Transcript, our Facebook page and on our class website. Until then, please help in locating classmates and their contact information and send to: normantigers66@gmail.com.
---
---
NORMAN HIGH SCHOOL BAND REUNION 1965-1969
Fellow Norman High band members, looking forward to seeing as many of you as possible for our first (that we know of) multi-class Norman High School band reunion. Here are the details. The date is Thursday, August 10, 7-11 p.m. at the Norman Train Depot, 200 S. Jones Ave, Norman, OK - Special Guest Harry Haines. $20.00 at the door and donations gladly accepted. We are having an "Appetizer Potluck" to sample your favorite snack, appetizer or finger food. Ice, coffee, water, tea and cake will be provided. You may bring your own favorite beverage. Anyone who is interested is invited...simply contact them, invite them, and let us know on Facebook or Private Messenger. Dress is casual. Visit our reunion Facebook page Norman High School Band Reunion '65 - '69.
HOPE TO SEE YOU IN AUGUST!
(One tee tah tuh)
---
---
D'Anne Mount
You may post memories on D'Anne's In Memory page on this website and on our Facebook page.
---
---
Bill Pence
Condolences and memories may be posted on Bill's In Memory page on this website and on our Facebook page.
---
---
Class of 1966 Scholarship Fund: Student Winner!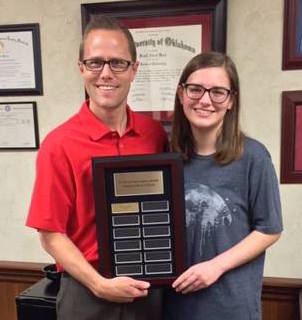 Norman High School Principal Scott Beck presents the Class of 1966 Scholarship plaque to Kamrin Ratcliff. Kamrin plans to attend the University of New England and major in political science and history - she'll be receiving a check for $2,200! Thanks to all those who joined Mary Male to contribute to this year's Class of 1966 Scholarship.
This will be an annual scholarship. Mary has guaranteed that the scholarship will continue for the next 10 years and will fund the scholarship for a minimum of $500 a year for 10 years. The plaque will go in the Norman High trophy case with the recipient's name for future years. So if any of us wants to donate next year and each year, we can make each year's award and our class's impact that much bigger for future Norman High graduates! For more information, go to:
Norman Public Schools Foundation website
With best wishes as we all celebrate still being here 50 years later!
Mary
-----------------------------------------------------------------------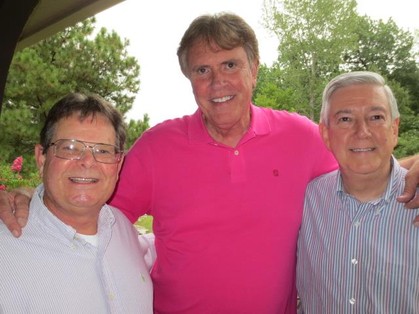 Three of the Pharoahs reunited in 2014 - Brett Butler, Bill Haddock & Don Harral
-----------------------------------------------------------------------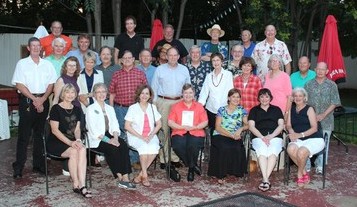 The 65th birthday bash was held at Othello's in Norman on June 22, 2013