Norman High School
Class Of 1966
In Memory
Elaine Feaver (Witten) VIEW PROFILE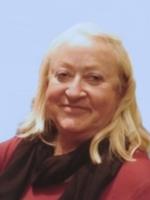 Elaine Feaver
Katheryn Elaine Feaver Witte, a member of the Norman High School class of 1966, was born January 13, 1948 in Berea, Kentucky to Margaret Storsand Feaver and Dr. J. Clayton Feaver. She died on February 11, 2022 at her home in Norman, Oklahoma.
Elaine is survived by her daughter, Emily Witten; granddaughter, Lyr; brother, Dr. John Feaver; and his family; nephews Jim and Matt Feaver; and their mother, Ann Feaver. Cousins in California, Virginia, Montana, Florida, Arizona and Australia also survive her.
Elaine is also survived by her sister and friend, Ellen Feaver, with whom she had a lifelong deep and wide bond as well as her beloved nephew, niece and grandnieces, Dr. Josh and Jessica Blyden, Isabelle and Evelyn, who knew her to be the matriarch of her family who loved them unconditionally and with genuine kindness. She was an avid quilter, gardener, pianist and antique collector.
Elaine had way too much fun with Jackie Farley and Susan Arn who assisted her in doing whatever she requested the last several years. Jane Cannon shared years of adventures and laughs in taking Elaine out to Josh's land where Elaine would feed the cattle, brush hog and experience a peace found only there. Forever Elaine's friends with whom she spent countless hours of laughter and love are Cheryl and Dan Laidacker, Debby Bonny and Linda Winton. There are so many more.
She was predeceased by her grandparents, parents, and her husband and beloved partner, Gerald B. Witten.
Elaine received from the University of Oklahoma Health Sciences Center her Bachelor of Science in Nursing in 1971 and Master of Science in Allied Health, Communication Sciences and Disorders in 2000. In 1986 she received her Master of Human Relations from the University of Oklahoma.
Until her retirement in 2016 when Elaine was granted emeritus professor status by the University of Oklahoma Health Sciences Center College of Nursing, she either worked, was in school or both from the time she graduated from Norman High School in 1966 until her health necessitated her "full" retirement in 2017. She was also a member of the Air National Guard in her early 20s.
Elaine's first professional career was with the Oklahoma Department of Mental Health and Substance Abuse Services where she worked first at Central State Hospital and then as a psychiatric nurse at the Phil Smalley Children's Center in Norman, becoming Director of Nursing before leaving around 1990. She then went to the statewide administrative office of Department of Mental Health and Substance Abuse Services where she worked in a number of capacities, retiring as Behavioral Health and Wellness Coordinator for the state in 1998.
Elaine had a significant and positive impact on the care of the poor mentally ill in residential care facilities across the state.
After obtaining her second graduate degree, Elaine commenced another career as assistant professor of nursing at the Health Sciences Center College of Nursing from 2000 to 2016. She was highly respected and admired by colleagues and students alike.
Elaine was an extraordinary and deeply loved family member, friend, professional colleague and teacher. Following her lead, as you go through life, please be kind to those around you and tread lightly on Mother Earth.
In lieu of flowers please consider donations in Elaine's honor to Food and Shelter for Friends, 201 Reed Ave., Norman, OK 73069
https://www.tribute.care/obituaries/Katherine-Elaine-Feaver-Witten?obId=24007065#/celebrationWall
Click here to see Elaine's last Profile entry.