Norman High School
Class Of 1966
In Memory
Terry Patty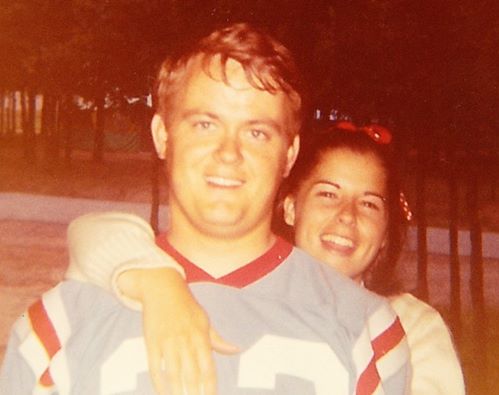 Terry Patty, beloved father and husband and a member of the Norman High School class of 1966, died on March 8th, 2015. He has been described by many in the last few weeks as "fun and loving" and that's exactly what he was to the many people that loved him.
Terry was born in Duncan, Okla., to Woodrow Patty and Hazel Patty (Pennington), and grew up fishing, playing sports, and according to legend, being a heart throb to the girls at Norman High School. He grew up with five wonderful siblings that he remained close to all their lives; Barbara, Judy, Dick (Norman High '64), Sam (Norman High '67) & Bill (Norman High '69).
He married his soulmate, Jo Ann McLin, on June 22, 1968. They were married for nearly 47 years, and were about as close as two people can be. Their two daughters, Joi and Robyn, were raised in a loving and hilarious household, filled with music and laughter. The later years included occasional bickering about whether to watch HGTV or ESPN.
Terry was a fixture in the commercial steel and custom door industry, where he enjoyed a 45-year career. Over the years that career moved the family from Oklahoma to Arizona, and then on to California and Oregon. Terry loved the outdoors, and Oregon was the perfect spot to finally settle down. He loved exploring the coast, hiking along the Willamette, and fishing on the Columbia.
Terry was an aficionado of quirky things like aviation, Apple computers and extreme weather, and always had an offbeat story to share. He was an avid reader, so it makes sense that he married a woman who worked in a library. He would provide a list of books to bring home, and of course, Jo Ann would bring home whatever she thought would interest him. And she was always right; after so many years she knew him well.
And of course, Terry loved music. His family has wonderful memories of hearing him play his guitar, and getting excited over new music he had discovered. He always had something playing in the car, or streaming from his iPhone. He loved songwriters, and music with harmony and feeling.
Terry cherished his family unbelievably, which grew to include sons-in law Will and Frank, and grandchildren Liam and Olive. We all felt his love every moment of every day. We are left in awe of his life, and grieved by his death. We thank everyone for the outpouring of support that we've been given, and feel moved that he touched so many people.
All our love,
Jo Ann, Joi & Robyn
In lieu of flowers, please make a donation to the American Heart Association in his name. Or, go buy an iPhone, which is what we all know he would REALLY have wanted.