Norman High School
Class Of 1966
In Memory
John W. Martin VIEW PROFILE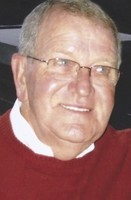 John Wesley Martin, a member of the Norman High School class of 1966, passed away peacefully on October 26, 2016.
John was born in Stratford, Okla., on January 6, 1948. He was blessed with and survived by his wife, Ruth Olivares Martin, and son, Wesley Warren Martin. He is further survived by his mother, Margria Viola Martin of Eufaula, Okla.; sister, Dean Howard of Norman; Brinda Warren and husband, Stephen of Checotah, Okla.; Kay McCullar and husband, Tommy of Checotah, Okla.; and brother, Terry Martin and wife, Linda, of Eufaula, Okla. He was predeceased by his father, Alva Chester Martin; two brothers, Chester and Glenn Martin; and two sisters, Patsy Martin and Linda Jacobs.
After John graduated from Norman High School, he received an honorable discharge from the Army National Guard after serving seven years.
John started his jewelry career soon after high school, which evolved into a successful, privately owned jewelry business specializing in custom-designed jewelry. John's humor, compassion, zest for life and vibrant spirit will be missed by all his family and friends.
In lieu of flowers, memorial gifts may be made, in memory of John, to the First Presbyterian Church of Richardson, Texas.
Click here to see John W.'s last Profile entry.